On this episode, founding Norwegian steel visionary Kjetil Nernes particulars why he switched to a tuned-up, Electrical Guitar Firm baritone, why he runs extra Hiwatts than Pete at Leeds (and the way they've caught fireplace … a number of instances), and explains how a big-box-store drive sharpens his large tone.
---
[Brought to you by D'Addario XL Strings: http://ddar.io/XL.RR]
Customized Electrical Guitar Firm Baritone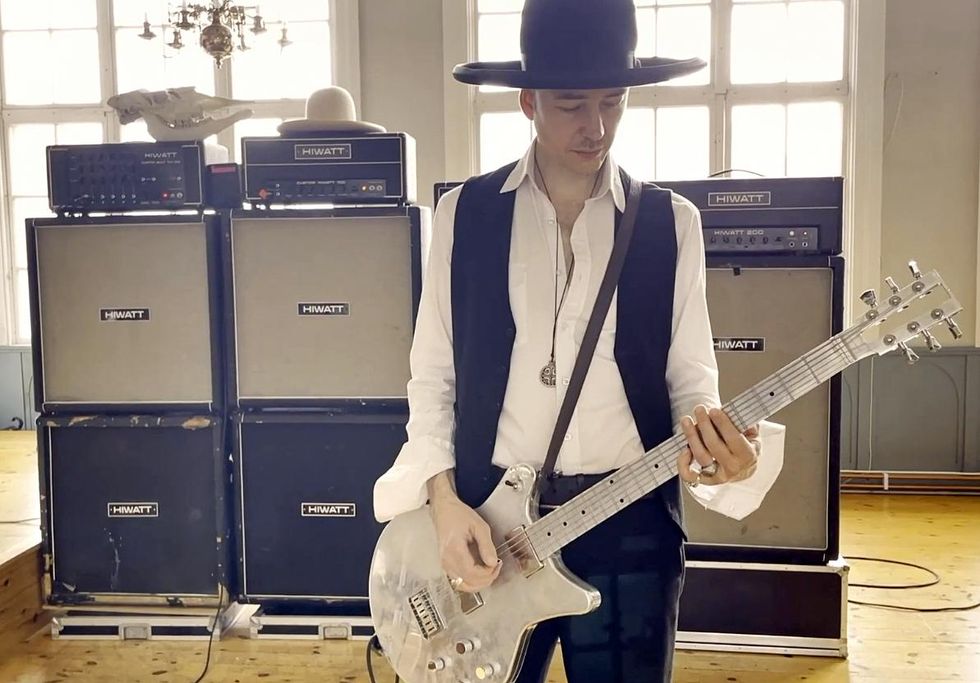 Årabrot inventive chief Kjetil Nernes owns a number of customized Electrical Guitar Firm devices, however the one he is been utilizing essentially the most at present is EGC's baritone mannequin. He tunes it to drop C and says the bari mixes effectively with bandmate Karin Park's Moog bass analog synth. He employs a customized set of Black Harbor strings (.012–.060).
Kjetil Nernes' Pedalboard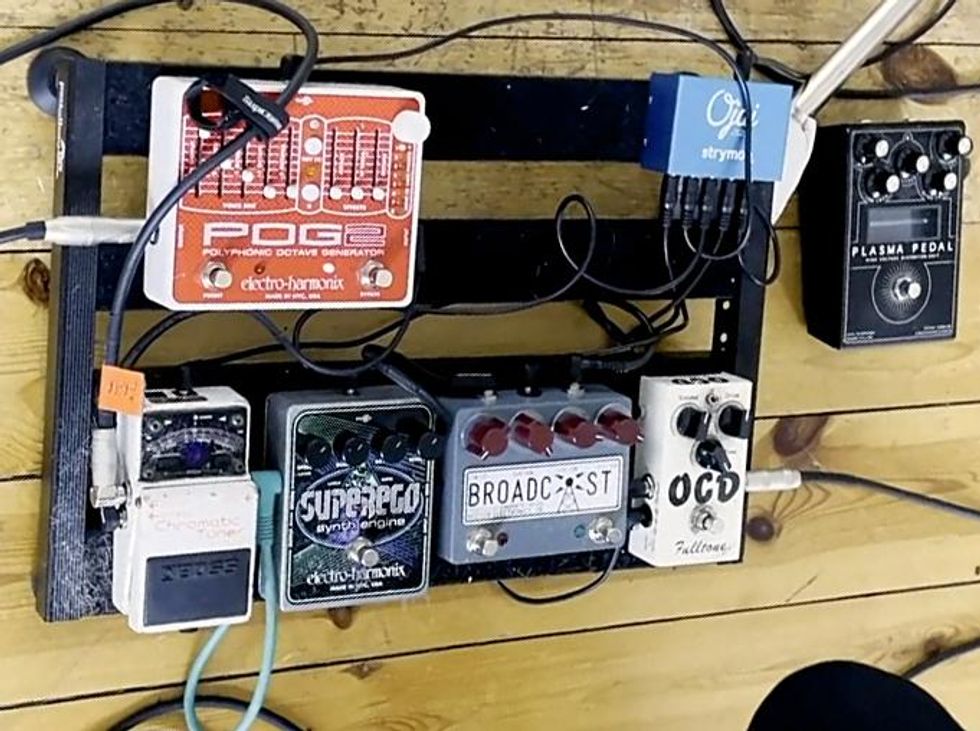 "I even have a pedalboard lately, which is outstanding for a guitar participant like me," says Nernes. "For years, I used to be solely utilizing the Fulltone OCD and it is turned the spine of Årabrot's sound."
He nonetheless prefers the OCD for its "sharpening" contact to his metallic EGC tones. The Electro-Harmonix POG2 hits his Hiwatt (Customized 200 DR201 bass amps) for an added sign increase. (As you possibly can see, he is dialed out a lot of the octave impact.) His second Electro-Harmonix stomp is the Superego, nevertheless it's used merely as a glorified synth-y reverb to cowl materials on 2021's Norwegian Gothic. Heavier, chunkier, repulsive acquire occurs when the Hudson Electronics Broadcast runs into the Fulltone OCD. And whereas it wasn't plugged in for the Rundown, Nernes enjoys getting filthy with the Gamechanger Audio Plasma Pedal. Every part is powered by the Strymon Ojai.
Hiwatts Galore!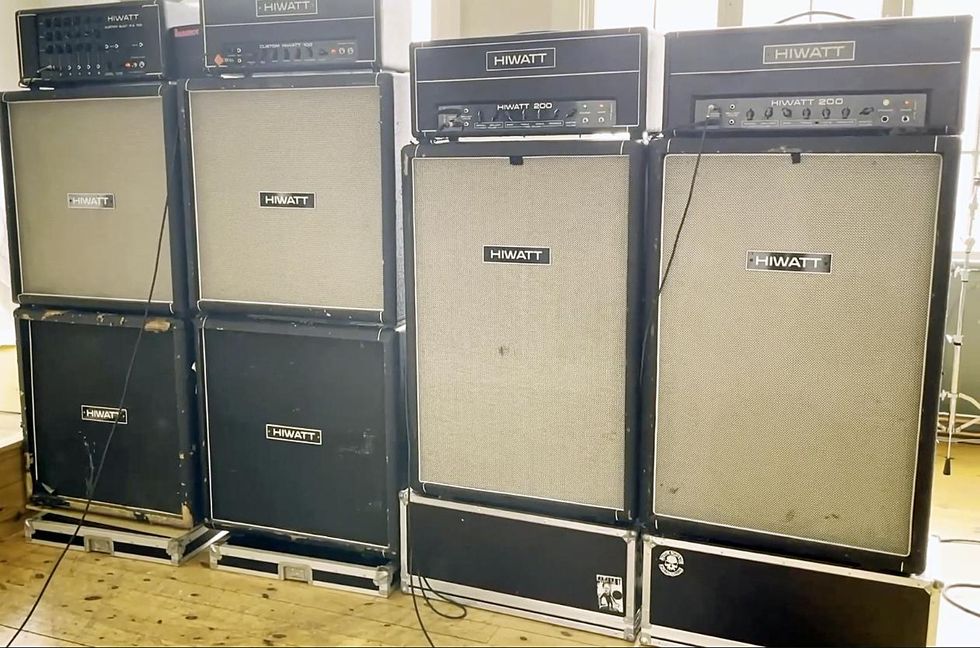 Utilizing extra Hiwatts than Pete at Leeds, Nernes blends classic guitar heads with trendy bass pillars. The guitar stacks on the left are comprised of two Nineteen Seventies Hiwatt fashions—a DR112 Customized Constructed PA 100 head (left) and a venerable Customized 100 DR103. Each heads run by way of their very own pair of Hiwatt 4×12 cupboards: one is loaded with Celestions and the opposite with Fanes. Nernes likes the mix of audio system with the guitar heads as a result of he feels the Celestions add a present complement to his monstrous roar. The proper half of the British-voiced battalion options Hiwatt Customized 200 DR201 (KT88) heads matched with Hiwatt SE115410F cupboards loaded with 4 10″ and one 15″ Fane Sovereign audio system.
From Your Web site Articles
Associated Articles Across the Net
window.REBELMOUSE_LOWEST_TASKS_QUEUE.push(function(){
function setCookie(name, value, expires) { var cookie = name + "=" + value + "; path=/; domain=." + location.hostname.replace(/^www./i, "");
if (typeof expires !== "undefined") { var now = new Date(); now.setTime(now.getTime() + expires * 24 * 60 * 60 * 1000); cookie += "; expires=" + now.toUTCString(); }
document.cookie = cookie; }
function getCookie(name) { var cookies = document.cookie.split(";"), toReturn;
for (var i = 0; i < cookies.length; i++) { var cookie = cookies[i].trim(); if (cookie.indexOf(name + "=") === 0) { toReturn = cookie.substring((name + "=").length, cookie.length); } } return toReturn; } (function() { var pageviewCount = getCookie("pageviewCount"); if (typeof pageviewCount === "undefined") { pageviewCount = 1; } else { pageviewCount++; } setCookie("pageviewCount", pageviewCount, 30); })(); }); window.REBELMOUSE_LOWEST_TASKS_QUEUE.push(function(){ var onWindow = function(event, callback) { if (typeof window.addEventListener !== "undefined") { window.addEventListener(event, callback, false); } else { window.attachEvent("on" + event, function() { callback.call(window); }); } }; var onWindowLeave = function(callback) { onWindow("mouseout", function(originalEvent) { var event = originalEvent ? originalEvent : window.event, element = event.relatedTarget || event.toElement; if (!element || element.nodeName === "HTML") { if (typeof callback === "function") { callback(); } } }); }; onWindowLeave(function() { dataLayer.push({ "event":"exit_intent"}); }); }); window.REBELMOUSE_LOWEST_TASKS_QUEUE.push(function(){ !function(f,b,e,v,n,t,s) {if(f.fbq)return;n=f.fbq=function(){n.callMethod? n.callMethod.apply(n,arguments):n.queue.push(arguments)}; if(!f._fbq)f._fbq=n;n.push=n;n.loaded=!0;n.version='2.0'; n.queue=[];t=b.createElement(e);t.async=!0; t.src=v;s=b.getElementsByTagName(e)[0]; s.parentNode.insertBefore(t,s)}(window, document,'script', 'https://connect.facebook.net/en_US/fbevents.js'); fbq('init', '2443260782583307'); fbq('track', 'PageView'); }); window.REBELMOUSE_LOWEST_TASKS_QUEUE.push(function(){ }); window.REBELMOUSE_LOWEST_TASKS_QUEUE.push(function(){ (function(document, window){ var script = document.createElement("script"); script.type = "text/javascript"; script.src = "https://api.pushnami.com/scripts/v1/pushnami-adv/5ff5e4df37c0ba0010fe03b5"; script.onload = function() { Pushnami .update({ "category": "send-notification, re-send-push-notification", "tag": "" }) .prompt(); }; document.getElementsByTagName("head")[0].appendChild(script); })(document, window); }); window.REBELMOUSE_LOWEST_TASKS_QUEUE.push(function(){ function Ithrottle (callback, limit) { var wait = false; return function () { if (!wait) { callback.apply(null, arguments); wait = true; setTimeout(function () { wait = false; }, limit); } } } //Get the button: mybutton = document.getElementById("myBtn"); // When the user scrolls down 20px from the top of the document, show the button window.onscroll =Ithrottle( function() { if(!window.document.documentMode){ scrollFunction(); } },200); function scrollFunction() { if(window.pageYOffset>window.innerHeight){ mybutton.classList.add("visible") } else { mybutton.classList.remove("visible") } }
});
window.REBELMOUSE_LOWEST_TASKS_QUEUE.push(function(){
var urlChanged = 0; document.addEventListener("rebelmouse.urlChange", function handler(event){ urlChanged++; if(urlChanged == 2){ urlChanged = 0; googletag.pubads().refresh([window.surroundscape_left, window.surroundscape_right]) googletag.pubads().refresh([window.stickySlot]) } })
});
window.REBELMOUSE_LOWEST_TASKS_QUEUE.push(function(){
IcreateElementChangeListener('.posts--socialux .widget', function (item) {
if (item.querySelector('.widget__show-more')) { console.log("asdasdsadasd"); item.querySelector('.widget__show-more').addEventListener('click', function () {
setTimeout(function () { console.log("yp09om"); if (item.querySelector('.rebellt-item.col1')) { console.log("123"); processInterScrollerAd(item.querySelector('.rebellt-item.col1')); } else if (item.querySelector('.rebellt-item.col2')) {
processInterScrollerAd(item.querySelectorAll('.rebellt-item.col2')[1]); } else if (item.querySelector('.rebellt-item.col3')) {
processInterScrollerAd(item.querySelectorAll('.rebellt-item.col3')[2]); } else { let els = item.querySelectorAll(".content-container > *"); if (els.length == 0) { els = item.querySelectorAll(".js-appear-on-expand > *"); } if (els.length > 5) {
processInterScrollerAd(els[Math.floor(els.length / 3) - 1]) } else {
processInterScrollerAd(els[els.length - (els.length -1)]) } } }, 500) }) } })
});
window.REBELMOUSE_LOWEST_TASKS_QUEUE.push(function(){
window.REBELMOUSE_STDLIB.loadExternalScript("https://pagead2.googlesyndication.com/pagead/js/adsbygoogle.js", function() {
});
});
window.REBELMOUSE_LOWEST_TASKS_QUEUE.push(function(){
let contianer=document.querySelector(".current-post .widget"); let scr=document.createElement("script"); let div=document.createElement("div"); //div.innerHTML='
More videos from Premier Guitar
'; //scr.src="https://live.sekindo.com/live/liveView.php?s=98532&cbuster=[CACHE_BUSTER]&pubUrl=[PAGE_URL_ENCODED]&subId=[SUBID_ENCODED]"; //contianer.appendChild(div); //contianer.appendChild(scr);
});
window.REBELMOUSE_LOWEST_TASKS_QUEUE.push(function(){
IcreateElementChangeListener(".widget .body", function(item){ if(item.querySelector(".widget__show-more")){ item.querySelector(".widget__show-more").onclick=function(){ setTimeout(function(){ if(item.querySelector(".content-container script") && item.querySelector(".content-container script").innerText!=""){ eval(item.querySelector(".content-container script").innerText) } },200) } } })
});



Source link