Yasmin Williams' gateway drug to guitar was a online game. After defeating Guitar Hero II (on professional, no much less), her dad and mom inspired the budding curiosity by giving Yasmin an electrical.
---
"I suppose they had been impressed that I beat the sport," admits Williams. "They obtained me an electrical first and so I discovered Hendrix and Nirvana songs. I actually wished to be a metal-head shredder like Paul Gilbert and Steve Vai … that did not work out [laughs], so I switched to acoustic as a result of I may lay the guitar throughout my lap and faucet on the neck very like taking part in the tougher, sooner songs on Guitar Hero."
Along with taking part in the acoustic guitar (in conventional and non-traditional kinds), Williams sprinkles in toe-tapping percussion (sure, she wears faucet sneakers that dance on a board that relaxation on her guitar's case), cello-bow drones, metallic-hammer touches, and even dabbles in conventional African devices just like the kalimba and kora.
She's joined the venerable instrumental label CandyRat Data (Andy McKee, Sammy Boller, Mike Dawes), shared the stage with fingerstyle icon Kaki King, and goals to proceed expressing herself via the guitar with any means vital.
She's been taking part in for over 10 years and launched two buoyant, joyful instrumental information—2018's Unwind and 2021's City Driftwood. Her most up-to-date assortment of songs was an empathetic and uplifting response to U.S.'s social unrest in 2020.
Simply after placing out her newest album, the one-woman ensemble just about welcomed PG's Chris Kies into her D.C.-based rehearsal studio.
On this episode, the unconventionally nice guitarist reveals off her most important devices, illustrates how she expands the acoustic guitar's prospects (incorporating two-hand lap tapping, an Engle hammer, and a cello bow), and will get wild and bizarre with a pair of digital dreamers—a Strymon BigSky and Hologram Electronics Microcosm.
[ Brought to you by: D'Addario Pro Plus Capo]
Skytop Grand Live performance Multi-Scale Acoustic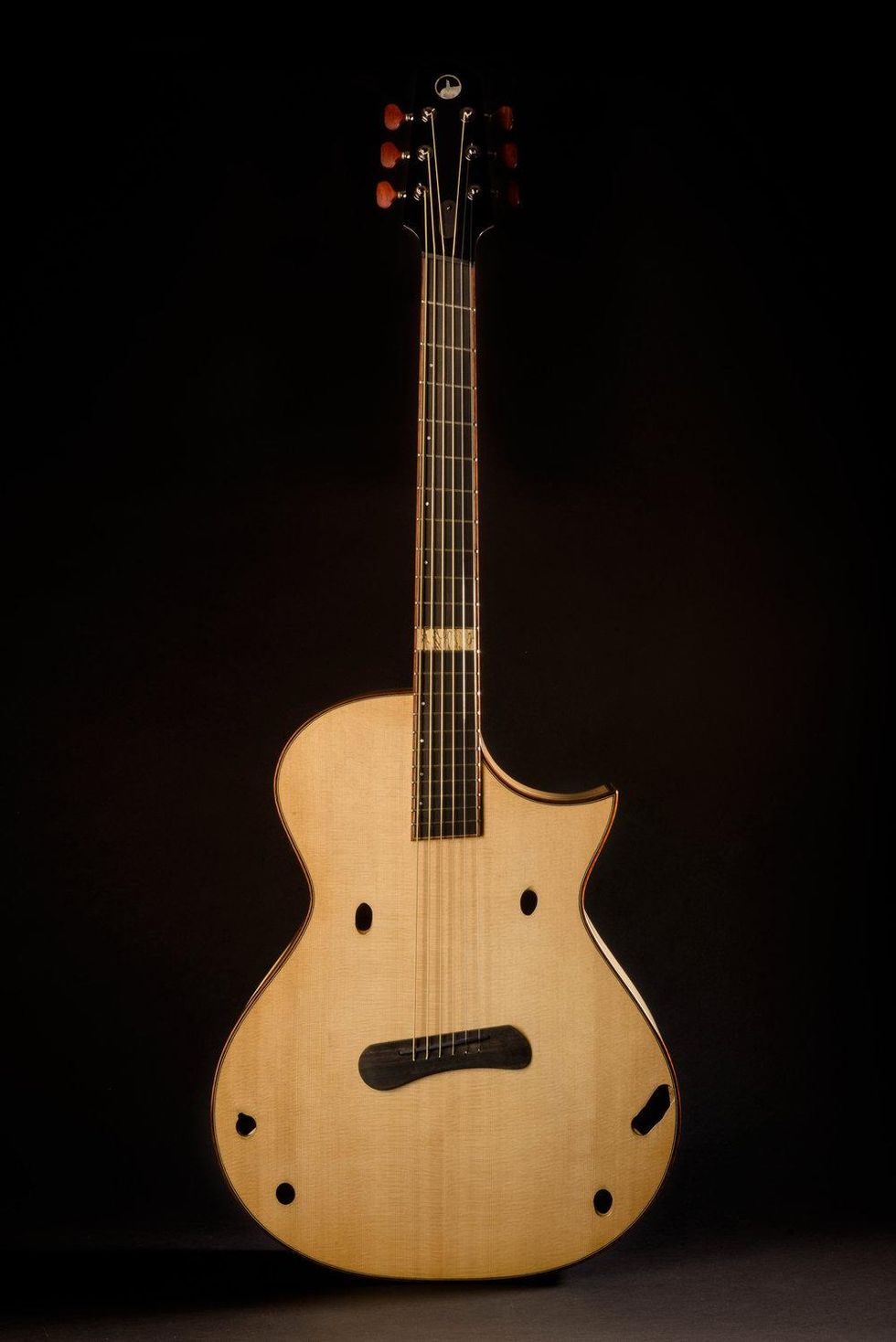 Above is Williams' mainstay acoustic—a multi-scale Skytop Grand Live performance mannequin handbuilt by luthier Eric Weigeshoff. No, your eyes aren't deceiving you, the teredo Sitka spruce high does have holes in it. Earlier than coming to Weigeshoff's New York-based store, the sourced Sitka was used within the PNW to line round rafts accessing the Puget Sound. The teredo worms chew via the logs, boring out distinctive patterns and grooves. The usage of the holed tonewood enhances Williams' percussive taking part in fashion. Along with the teredo holes on high, Weigeshoff put in two of his signature aspect soundholes that create a stereo impact permitting her to listen to herself higher onstage.
Her No. 1 got here loaded with James Might Engineering Extremely Tonic V3 pickups. The Skytop takes GHS Silk and Metal (.011–.048) strings, she goes with a Black Mountain thumbpicks, typically strikes the strings with an Engle Guitar Hammer, and solely makes use of Shubb Capos. The guitar can be in all types of tunings, however most frequently it rides in open D ("as a result of issues simply sound stunning and light-weight").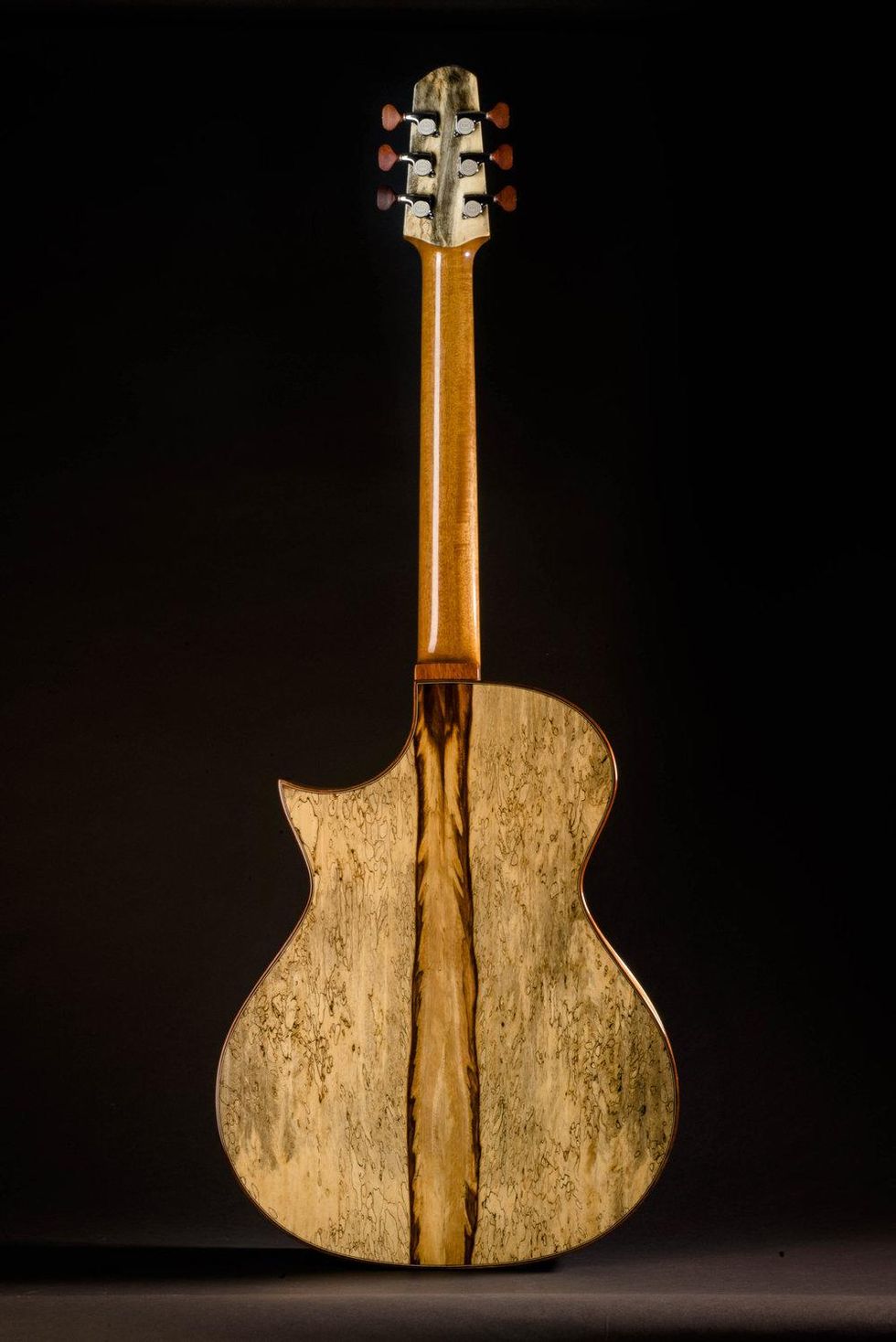 This is the reverse aspect of Yasmin's Grand Live performance with its beautiful spalted tamarind used for the perimeters and again.
Timberline Guitars T60HGHpc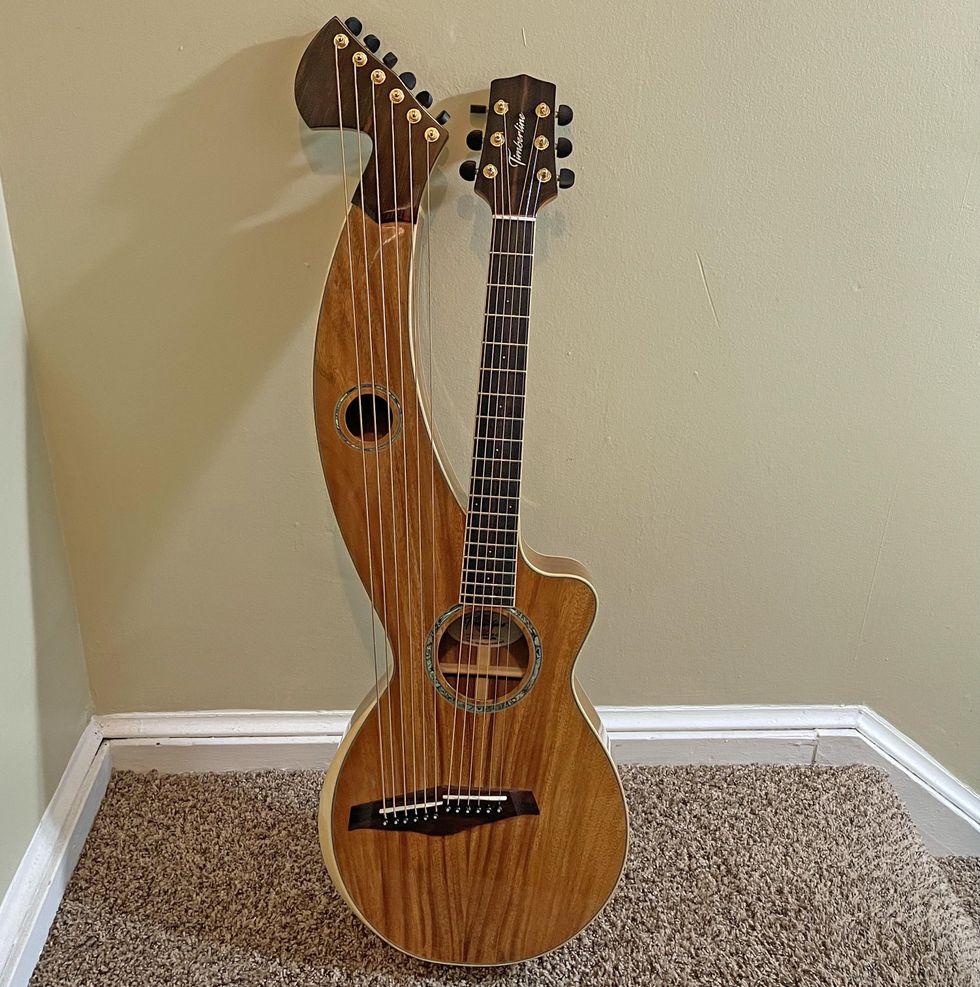 "I by no means thought I might get a harp guitar," admits Williams. "It simply appears like an excessive amount of is happening [laughs]." Nevertheless, when she was launched to this parlor-sized Timberline Guitars T60HGHpc throughout NAMM 2020, the thought of a harp guitar was extra in her grasp.
Its high, again, and sides are constructed from stable acacia, whereas the mahogany neck is paired with a Macassar ebony fretboard. Tamarind is used for the consolation arm bevel and it is also used as binding to distinction in opposition to the acacia physique.
The double-neck harp is outfitted with a dual-output system that makes use of a pair of 3-element contact Okay&Okay Sound Pure Mini pickups.
And the higher sub-bass strings are sometimes tuned to a g scale.
21-string Kora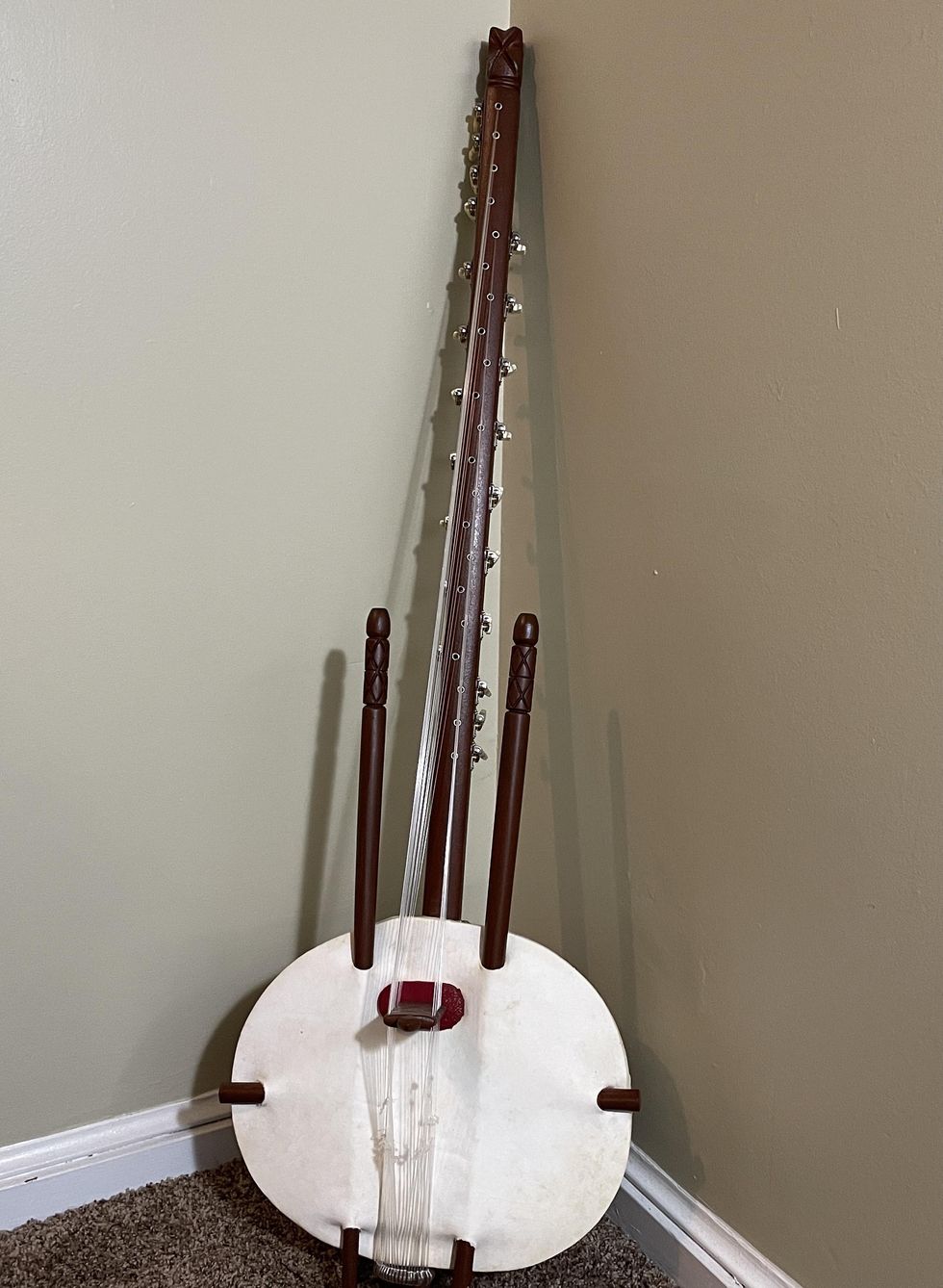 One other instrument Williams will pluck on is that this 21-string Kora. The instrument is native to West Africa and was developed within the sixteenth century.
Hugh Tracey Kalimba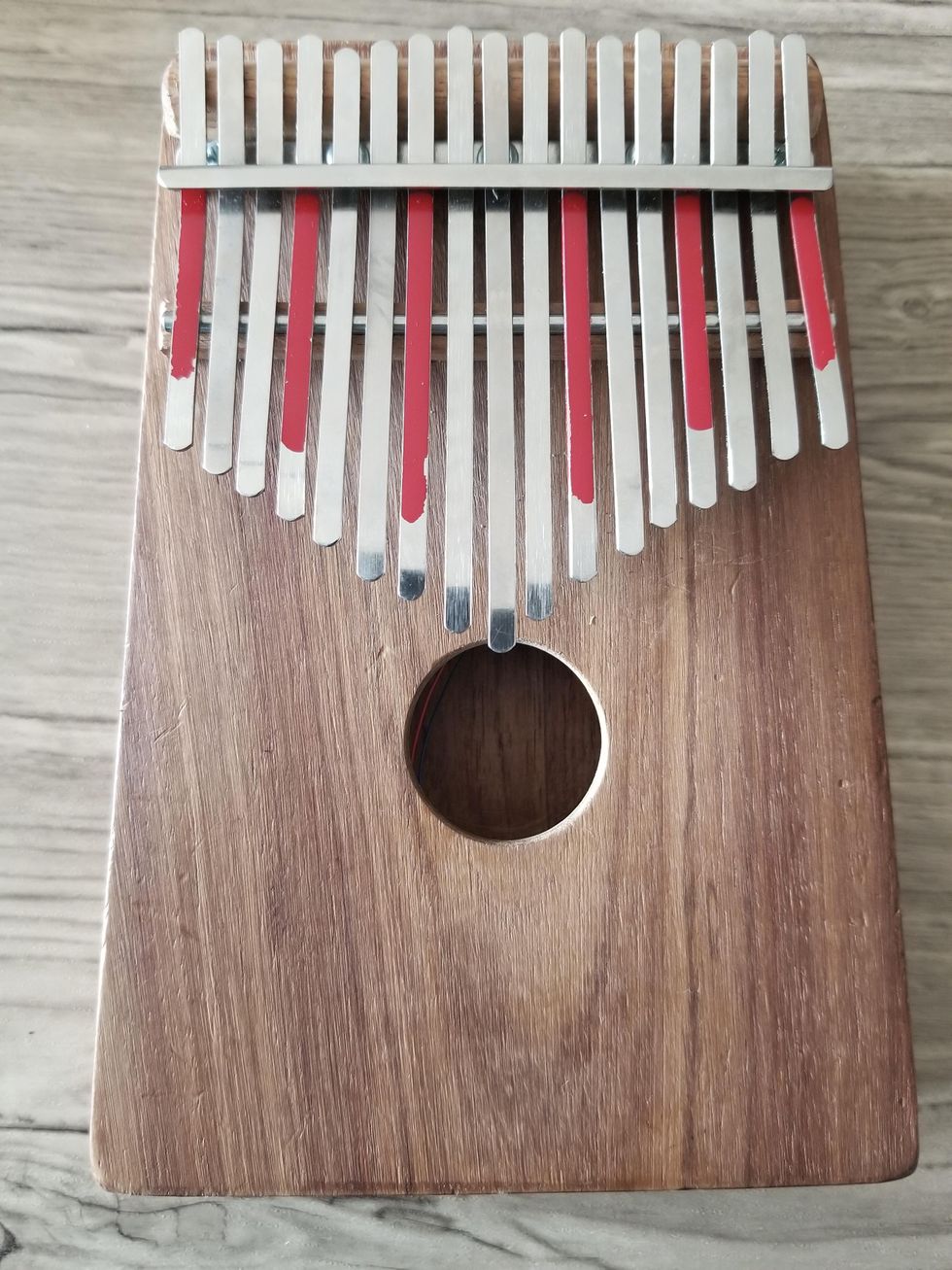 As a baby, Yasmin cherished Earth, Wind & Hearth's hit "Kalimba Story" (off Open Our Eyes) and it impressed her so as to add it to her onstage repertoire. In observe, Williams will relaxation this Hugh Tracey Kalimba on her acoustic's high (behind the bridge) and faucet out melodies on the guitar's neck together with her left hand and hit the kalimba together with her proper. (A great example of her dexterity is the song "Guitka" that closes out her debut album, Unwind.)
Yasmin's Pedalboard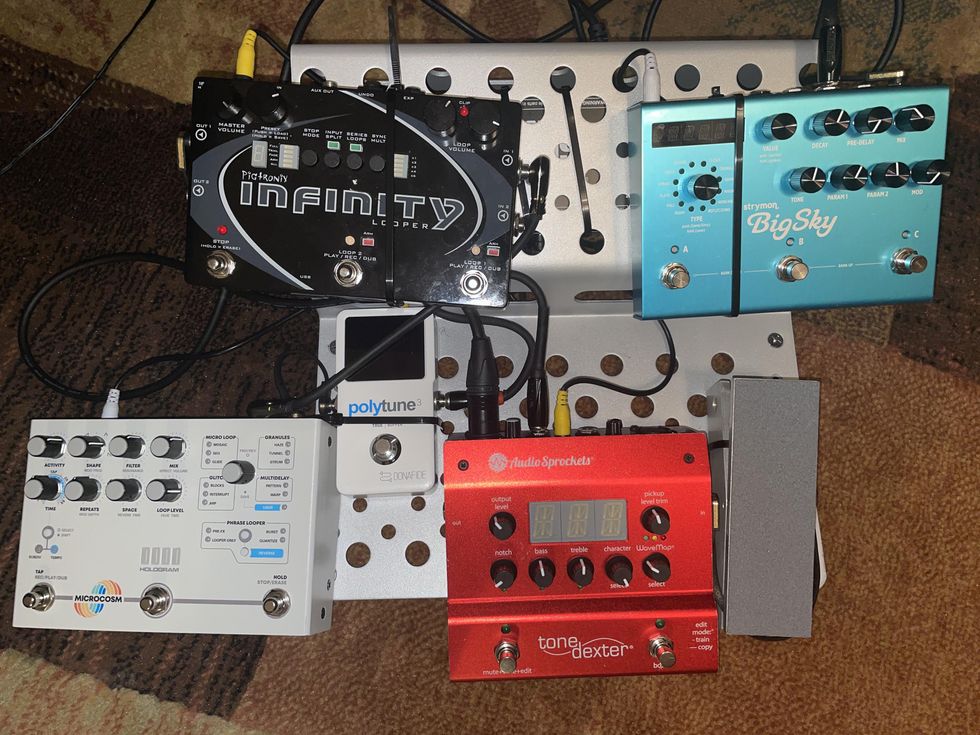 Since discovering her footing with the acoustic guitar, Yasmin has been slowly filling her Holeyboard stomp station. (She's a giant fan of the Holeyboard as a result of she will be able to take a look at out new pedals with out the long-term dedication of Velcro and its residual gooeyness.)
Her pedals (going from utilitarian to oddball) embody a TC Digital PolyTune 3 and Loop Group Looptimus (not pictured). Then now we have the Audio Sprockets Tone Dexter that permits her to map her recorded guitar tone and mix that together with her soundboard pickup nearly giving her acoustic a 3-D sound. Subsequent she has the Pigtronix Infinity Looper, a Strymon BigSky, and the zany Hologram Electronics Microcosm.
From Your Website Articles
Associated Articles Across the Net
window.REBELMOUSE_LOWEST_TASKS_QUEUE.push(function(){
window.REBELMOUSE_STDLIB.loadExternalScript("https://securepubads.g.doubleclick.net/tag/js/gpt.js", function() {
});
});
window.REBELMOUSE_LOWEST_TASKS_QUEUE.push(function(){
let count = 1; let options = { // threshhold for intersection observer, so it triggers before or after element in viewport dependinng upon value rootMargin: '0px 0px 900px 0px' }
function handleIntersection(entries) { entries.map((entry) => { if (entry.isIntersecting) { processAd(entry.target) //your call back here with the element that is intersected or in viewport observer.unobserve(entry.target); // if you want to run it only once unobserve it } }); }
function createElementChangeListener(selector, callback) { // look for elements that are injected later in the page. const initializedNodes = new Set([]); document.querySelectorAll(selector).forEach((node) => { callback(node); initializedNodes.add(node); }); const mutationObserver = new MutationObserver(() => { const nodes = document.querySelectorAll(selector); nodes.forEach((node) => { if (!initializedNodes.has(node)) { callback(node); initializedNodes.add(node); } }); }); mutationObserver.observe(document.body, { childList: true, subtree: true, }); } const observer = new IntersectionObserver(handleIntersection, options); createElementChangeListener(".pg_infinite,.posts--socialux:not(.current-post) .pg_in-content_1,.posts--socialux:not(.current-post) .pg_in-content_2,.primis,.pg_sidebar_1,.pg_sidebar_2", function (item) { //looks for item in the dom even if they are lazy laoded console.log(item.className); if (item.innerHTML.trim() != "" || item.id) { return; } else { observer.observe(item); // observe item } }) function processAd(ad_div) {
googletag.cmd.push(function() {
let ad_id="site-ad-"+count++; ad_div.id=ad_id; // console.log(ad_id+"-hell yeah"); var sidebar_mapping = googletag.sizeMapping(). addSize([1024, 0], [[300, 600], 'fluid', [300, 250]]). //desktop addSize([768, 0], ['fluid', [300, 250], [336, 280]]). //tablet addSize([360, 0], []). //mobile build(); var infinite_mapping = googletag.sizeMapping(). addSize([1674, 0], [[600,200],[300, 250], 'fluid', [336, 280], [320, 100]]). //desktop addSize([1024, 0], [[600,200],[300, 250], 'fluid', [336, 280], [320, 100]]). //desktop addSize([768, 0], [[600,200],[300, 250], 'fluid', [336, 280], [320, 100]]). //tablet addSize([360, 0], [[320, 80], [300, 250], 'fluid', [336, 280], [320, 100], [320, 50]]). //mobile build(); var content_mapping = googletag.sizeMapping(). addSize([1674, 0], [[600, 200], [336, 280], [300, 250], 'fluid']). //desktop addSize([1024, 0], [[600, 200], [336, 280], [300, 250], 'fluid']). //desktop addSize([768, 0], [[600, 200], [728, 90], 'fluid']). //tablet addSize([413, 0], [[320, 80], [320, 50], [320, 100], 'fluid']). //samsung s20 addSize([360, 0], [[320, 80], [320, 50], [320, 100], 'fluid']). //mobile build();
if(ad_div.className.indexOf("pg_in-content_1")!=-1){ console.log(ad_id+"-hell yeah"); googletag.defineSlot('/136449909/pg/in-content_1', [[320, 80], [320, 50], [600, 200], [320, 100], [728, 90], [336, 280], [300, 250], 'fluid'], ad_id).defineSizeMapping(content_mapping).addService(googletag.pubads()); googletag.enableServices(); googletag.display(ad_id); } else if(ad_div.className.indexOf("pg_in-content_2")!=-1){ console.log(ad_id+"-hell "); googletag.defineSlot('/136449909/pg/in-content_2', [[320, 80], [320, 50], [600, 200], [320, 100], [728, 90], [336, 280], [300, 250], 'fluid'], ad_id).defineSizeMapping(content_mapping).addService(googletag.pubads()); googletag.enableServices(); googletag.display(ad_id); } else if(ad_div.className.indexOf("pg_infinite")!=-1){ googletag.defineSlot('/136449909/pg/pg_infinite', [[600, 200], [320, 80], [300, 250], 'fluid', [336, 280], [320, 100], [320, 50]], ad_id).defineSizeMapping(infinite_mapping).addService(googletag.pubads()); googletag.enableServices(); googletag.display(ad_id); } else if(ad_div.className.indexOf("pg_sidebar_1")!=-1){ googletag.defineSlot('/136449909/pg/sidebar_4', [[300, 600], 'fluid', [300, 250], [336, 280]], ad_id).defineSizeMapping(sidebar_mapping).addService(googletag.pubads()); googletag.enableServices(); googletag.display(ad_id); } else if(ad_div.className.indexOf("pg_sidebar_2")!=-1){ window.sidebarStickySlot=googletag.defineSlot('/136449909/pg/sidebar_5', [[300, 600], 'fluid', [300, 250], [336, 280]], ad_id).defineSizeMapping(sidebar_mapping).addService(googletag.pubads()); googletag.enableServices(); googletag.display(ad_id); setInterval(function(){ googletag.pubads().refresh([window.sidebarStickySlot]) }, 30000); } else if (ad_div.className.indexOf("primis")!=-1){ console.log("adasgdlashdliasnd") let scr=document.createElement("script");
scr.src="https://live.sekindo.com/live/liveView.php?s=98532&cbuster=[CACHE_BUSTER]&pubUrl=[PAGE_URL_ENCODED]&subId=[SUBID_ENCODED]"; //contianer.appendChild(div); ad_div.appendChild(scr); }
})
}
});
window.REBELMOUSE_LOWEST_TASKS_QUEUE.push(function(){
function setCookie(name, value, expires) { var cookie = name + "=" + value + "; path=/; domain=." + location.hostname.replace(/^www./i, "");
if (typeof expires !== "undefined") { var now = new Date(); now.setTime(now.getTime() + expires * 24 * 60 * 60 * 1000); cookie += "; expires=" + now.toUTCString(); }
document.cookie = cookie; }
function getCookie(name) { var cookies = document.cookie.split(";"), toReturn;
for (var i = 0; i < cookies.length; i++) { var cookie = cookies[i].trim(); if (cookie.indexOf(name + "=") === 0) { toReturn = cookie.substring((name + "=").length, cookie.length); } } return toReturn; } (function() { var pageviewCount = getCookie("pageviewCount"); if (typeof pageviewCount === "undefined") { pageviewCount = 1; } else { pageviewCount++; } setCookie("pageviewCount", pageviewCount, 30); })(); }); window.REBELMOUSE_LOWEST_TASKS_QUEUE.push(function(){ var onWindow = function(event, callback) { if (typeof window.addEventListener !== "undefined") { window.addEventListener(event, callback, false); } else { window.attachEvent("on" + event, function() { callback.call(window); }); } }; var onWindowLeave = function(callback) { onWindow("mouseout", function(originalEvent) { var event = originalEvent ? originalEvent : window.event, element = event.relatedTarget || event.toElement; if (!element || element.nodeName === "HTML") { if (typeof callback === "function") { callback(); } } }); }; onWindowLeave(function() { dataLayer.push({ "event":"exit_intent"}); }); }); window.REBELMOUSE_LOWEST_TASKS_QUEUE.push(function(){ !function(f,b,e,v,n,t,s) {if(f.fbq)return;n=f.fbq=function(){n.callMethod? n.callMethod.apply(n,arguments):n.queue.push(arguments)}; if(!f._fbq)f._fbq=n;n.push=n;n.loaded=!0;n.version='2.0'; n.queue=[];t=b.createElement(e);t.async=!0; t.src=v;s=b.getElementsByTagName(e)[0]; s.parentNode.insertBefore(t,s)}(window, document,'script', 'https://connect.facebook.net/en_US/fbevents.js'); fbq('init', '2443260782583307'); fbq('track', 'PageView'); }); window.REBELMOUSE_LOWEST_TASKS_QUEUE.push(function(){ }); window.REBELMOUSE_LOWEST_TASKS_QUEUE.push(function(){ (function(document, window){ var script = document.createElement("script"); script.type = "text/javascript"; script.src = "https://api.pushnami.com/scripts/v1/pushnami-adv/5ff5e4df37c0ba0010fe03b5"; script.onload = function() { Pushnami .update({ "category": "send-notification, re-send-push-notification", "tag": "" }) .prompt(); }; document.getElementsByTagName("head")[0].appendChild(script); })(document, window); }); window.REBELMOUSE_LOWEST_TASKS_QUEUE.push(function(){ function Ithrottle (callback, limit) { var wait = false; return function () { if (!wait) { callback.apply(null, arguments); wait = true; setTimeout(function () { wait = false; }, limit); } } } //Get the button: mybutton = document.getElementById("myBtn"); // When the user scrolls down 20px from the top of the document, show the button window.onscroll =Ithrottle( function() { if(!window.document.documentMode){ scrollFunction(); } },200); function scrollFunction() { if(window.pageYOffset>window.innerHeight){ mybutton.classList.add("visible") } else { mybutton.classList.remove("visible") } }
});
window.REBELMOUSE_LOWEST_TASKS_QUEUE.push(function(){
IcreateElementChangeListener('.posts--socialux .widget', function (item) {
if (item.querySelector('.widget__show-more')) { console.log("asdasdsadasd"); item.querySelector('.widget__show-more').addEventListener('click', function () { console.log("qqqqqqq"); setTimeout(function () { console.log("yp09om"); if (item.querySelector('.rebellt-item.col1')) { console.log("123"); processInterScrollerAd(item.querySelector('.rebellt-item.col1')); } else if (item.querySelector('.rebellt-item.col2')) { console.log("1234"); processInterScrollerAd(item.querySelectorAll('.rebellt-item.col2')[1]); } else if (item.querySelector('.rebellt-item.col3')) { console.log("12345"); processInterScrollerAd(item.querySelectorAll('.rebellt-item.col3')[2]); } else { let els = item.querySelectorAll(".content-container > *"); if (els.length == 0) { els = item.querySelectorAll(".js-appear-on-expand > *"); } if (els.length > 5) { console.log("123456"); processInterScrollerAd(els[Math.floor(els.length / 3) - 1]) } else { console.log("1234567"); processInterScrollerAd(els[els.length - (els.length -1)]) } } }, 500) }) } })
});
window.REBELMOUSE_LOWEST_TASKS_QUEUE.push(function(){
window.REBELMOUSE_STDLIB.loadExternalScript("https://pagead2.googlesyndication.com/pagead/js/adsbygoogle.js", function() {
});
});
window.REBELMOUSE_LOWEST_TASKS_QUEUE.push(function(){
let contianer=document.querySelector(".current-post .widget"); let scr=document.createElement("script"); let div=document.createElement("div"); //div.innerHTML='
More videos from Premier Guitar
'; //scr.src="https://live.sekindo.com/live/liveView.php?s=98532&cbuster=[CACHE_BUSTER]&pubUrl=[PAGE_URL_ENCODED]&subId=[SUBID_ENCODED]"; //contianer.appendChild(div); //contianer.appendChild(scr);
});
window.REBELMOUSE_LOWEST_TASKS_QUEUE.push(function(){
IcreateElementChangeListener(".widget .body", function(item){ if(item.querySelector(".widget__show-more")){ item.querySelector(".widget__show-more").onclick=function(){ setTimeout(function(){ if(item.querySelector(".content-container script") && item.querySelector(".content-container script").innerText!=""){ eval(item.querySelector(".content-container script").innerText) } },200) } } })
});



Source link